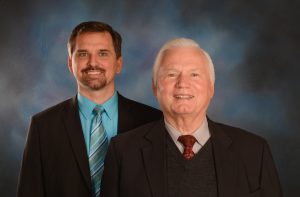 Contact Name: Eric Stamps
Business Name: Stamps & Stamps Attorneys at Law
Business Address:
3814 Little York Road
Dayton, Ohio 45414
Website: http://www.stampslawoffices.com
Business Phone: 937-898-9440
Business Description:
Stamps & Stamps Attorneys at Law specializes in helping people with legal issues achieve and exceed their goals. Whether you have been injured in an accident, harmed by a manufacturer, accused of a crime, need help with a will or financial issues such as bankruptcy or IRS back taxes, we are here to help. We have helped thousands of families and look forward to helping yours.
What first inspired you to get into your line of work? And what motivates you to do the work you do still today?
My father. He is our senior partner and I knew from the time I was about 5 that I wanted to follow in his footsteps.
How did you come to faith in Christ?
I am blessed to have parents who are followers of Christ and they brought me up in the church. Just prior to my 6th birthday, I committed my life to Christ and have been grateful ever since.
How does your faith impact the way you do business?
Always remembering that everything I do should be done for God, not man. I have a poster of Colossians 3:23 hanging in my office to remind me. When you focus on God's standards, the results for man are so much greater. Also, Jesus tells us that when we do something for the least of these, it is as if we have done it for Him. It is always important to know that the person we have the opportunity to help was made in God's image and we are to love our fellow man and help him in times of trouble.
What ministry/cause do you champion and why?
Fighting manufacturers that have purposefully put out products knowing they are harmful. Currently, I am pursuing cases against many manufacturers including against 7 baby food companies that knowingly sold baby food that was fed to infants and ultimately lead to the children developing Autism. With an Autistic son who was fed baby food, that cause is particularly dear to me. Also, firefighters who were diagnosed with cancer. The foam used to fight fires is linked to various cancers because of the harmful chemicals in them. The firefighters put their lives on the line daily for us and we should be doing all we can to protect them. Holding 3M and Dupont accountable for harming the firefighters