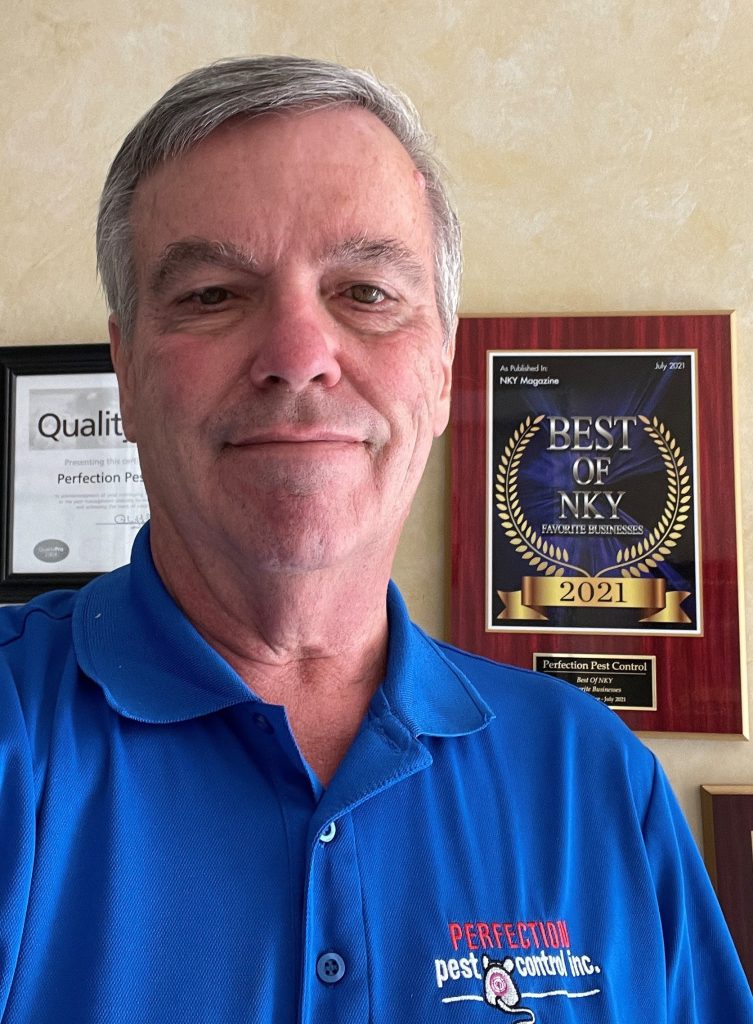 Business Name: Perfection Pest Control, Inc.
Contact Name: Tim Leatherman
Business Address:
9967 Old Union Rd.
Union, KY 41091
Website: https://www.perfectionpest.com/
Perfection Pest Control provides pest and wildlife management services to homes and businesses, including ants, bats, bed bugs, termites, raccoons, mice – any pest that crawls or flies. Licensed in Kentucky, Ohio, and Indiana, Perfection services the entire greater Cincinnati area.
Perfection has been a QualityPro certified company for the past 20 years – one of only 10 in the United States of all the companies. In addition to the 25 years Perfection Pest Control has been in business, I have served the area for over 44 years in pest management.
What first inspired you to get into your line of work? And what motivates you to do the work you do still today?
In 1979-1980 I was employed in the insulation business, just married, and buying our first home. A recession was coming on, but I had faith. So the day before the closing of our first house, my boss calls me in the office and said we are laying you off. But he had a job lined up for me "killing bugs". So, I went to closing with no job but full of faith. The industry has been good to me, and I have worked my way up from "killing bugs" to the owner of a 12-employee local operation in business for over 25 years.
How did you come to faith in Christ?
As a military "brat" we traveled the world, but could never find a church to plant ourselves into. When I finally settled into Kentucky with my wife, we began looking for a home church. Eventually, we found Fellowship of Believers and the great pastor Bo Weaver. Great teachings led me to be baptized by Bo. We eventually followed him to The Bridge and were part of the founding members.
How does your faith impact the way you do business?
I seek God for guidance for my business. When you ask for guidance, you will be divinely directed in what steps you should take as far as business plans are concerned. 
There have been times in my life and business when I had shaky faith and things didn't work out. However, there have been times in my life and business when I had unwavering faith, and everything worked out very well. Allowing faith to influence your business decisions means that you do your best and believe in the best.
Practice moral leadership by being a moral leader. Serving in ways that are kind, professional, and moral should be paramount. As a believer, I am aware that not only does God hold me to a higher standard, but I hold myself to one also.
Servant Leadership is not discussed enough in the workplace or in business these days. When you serve people with authenticity, your only motive is to help them. Helping others without expecting anything in return is a Christian principle.
What ministry/cause do you champion and why?
I have supported many ministries over the years. Perhaps the biggest one is P.E.S.T. Relief International. This organization helps orphaned, abused, and at-risk individuals. Currently, we are working on building a children's home in Atlanta, Georgia. https://www.pestrelief.org/