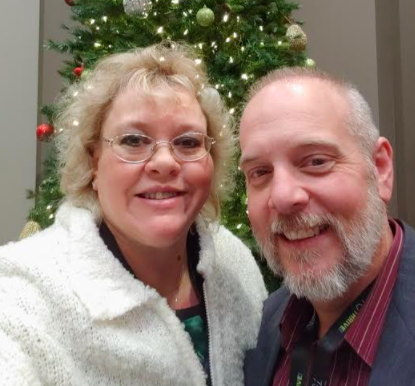 Contact Name: Carolyn and Ron Spears, Owners
Business Name: I AM Coffee
Business Address: 4728 Vine St Cincinnati, Ohio 45217
Facebook Page: https://www.facebook.com/WeAreIAMCoffee
Business Phone: 5134294975
Business Description:
We are a Christian owned coffee shop located in the heart of a little community called Saint Bernard, about 6 miles from downtown Cincinnati. We offer coffee, and espresso based drinks along with a variety of other pre packaged drinks. We also offer pastries, bagels, and breakfast sandwiches for the morning, and sandwiches and soup on Tuesdays and Thursdays from September through April. We provide indoor outdoor seating, along with a cozy and relaxing environment for you to sit, read, and enjoy community, or even study. We make sure every customer is treated like family, and enjoy getting to know our regular customers. We welcome everyone, from kids to the elderly, and even our four-legged friends as well. We make sure to sugar up the kids, give dog treats, then send you on your way!
What first inspired you to get into your line of work? And what motivates you to do the work you do still today?
I (Carolyn) actually helped out here before when it was an existing coffee shop under a different name and ownership. The previous owners were having some health issues, and the shop was going to close. We felt it was a very important part of this community, and hated to see it close up. So along with another couple, we purchased it, renamed it, and rebranded. We've been going strong since April of 2018.
How did you come to faith in Christ?
For me (Carolyn), I was 12 years old when I accepted Christ at my home church in our youth department. I had been raised in this church since I was 9 months old. I also attended a private Christian school for 6 years, so I was aware of who our Lord and savior was and still is.
Ron was 15 years old and gave his heart to Christ at a revival we were having at our church. We actually met at church in the youth department, and were friends. We grew up and then went our separate ways for 15 years until we were given the chance to come back together, then marry. We have been married for 17 years now, with a blended family.
How does your faith impact the way you do business?
We feel that being here in the community, we are a safe haven for people; plus, it gives us the opportunity for outreach throughout the community. I had already been heavily involved with community service within our school district, church, and my honor society. We have found a purpose within this community, and hope we at least can help others. We feel the need here with the children of the schools, and do not like to see them go hungry or go without
What ministry/cause do you champion and why?
We support several different aspects of the community, from the food pantry at local churches, to all the schools around us. We help collect food, coats and winter apparel, and school supplies, as well as items for our senior citizens. We do not like to see people go without, and know how lucky we are to be given this opportunity. We only hope we can grow even more.