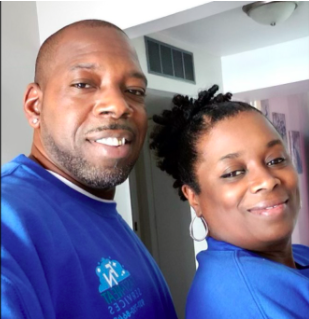 Contact Name: Fred and Netta Martin, Owner
Business Name: Fast and Neat Services LLC
Business Address: 7211 Taylorsville Rd Suite 105 Huber Heights, Ohio 45424
Website: www.fastandneatservices.com/
Business Phone: 937 750 8642
Fred and Netta Martin uniquely decided to bring a new fresh cleaning business/ideal to life and started by naming it Fast and Neat Services LLC, representing the first letters of their names, and adding services that we can stand by. They launched their business from the ground up, focusing on Residential, Commercial, Small Business, and Storefront Post Construction Clean up Industries. Their business focuses on their clients' needs, so with every walkthrough, they promise you a great experience, budget-friendly prices, and top-of-the-line cleaning products that are safe for the environment, their clients, and the fur babies, if any.
What first inspired you to get into your line of work? And what motivates you to do the work you do still today?
We combined our family early in our relationship… Fred and I knew our careers and retirement days were fastly approaching, and making business moves for our future seemed perfect. We pondered over being business owners and entrepreneurs for a year, and I then finally took the ultimate leap of faith and left my 14-year career in Law Enforcement, and scaled myself down to a 9-5 schedule to put a master plan together to grow our cleaning business. The main reason we decided to open a cleaning business was that we both had been in the industry, and we both love to be in a clean and healthy space/environment ourselves, and wanted to help others to keep their space clean and healthy as well. Lastly, there were not a lot of small black-owned cleaning businesses in our area that handled Move in/Move out, one-time clean, and reoccurring cleaning, like ours.
How did you come to faith in Christ?
Netta: I was led to Christ by truth, training, and teaching from the churches I attended as a little girl. That led to my adulthood and transformed me into the woman that I am today. I was led to believe a long time ago that if someone asks about my hope and faith as a believer, I should always be ready to explain it. (1Pet 3:15). I first came to believe that I was a sinner, so I started reading the book of Romans. I knew I had sinned and fallen short (Romans 3:23), but God demonstrated His own love for me while I yet sinned, I had to believe Christ died for me (Rom 5:8). I knew God Loved Me no matter what.
Fred's journey to Christ was different than mine… he knew for his children that he needed to set an example of a God-fearing man, and he knew "the wages of sin is death, but the gift of God is eternal life in Christ Jesus our Lord" Rom 6:23. Fred knew his salvation was a gift from God – it wasn't anything he could earn, and he knew he had to work hard to keep it. Fred knew he wanted to show God he appreciated the gift, through Love, Service, and sharing his faith with others.

How does your faith impact the way you do business?
We believe that the Holy Spirit works within… we came together by Faith, and are led by Faith. It was our faith together that moved Netta to decide to walk away from a 14-year career in Law Enforcement for several reasons, but most importantly, it hindered me from church and time with the Lord (and with my understanding of God and the Holy Bible). As I grew into the word of God, mountains were easily moved and God was ever so present in my home, in our lives, and in our business decisions. Our business was founded on faith and faith alone. We never thought entrepreneurship was arising. Just as Netta studied the word of God, she also studied the ins and outs of our business. We are making sure we grow our business from the ground up, with all the above inspiration and purpose God is granting us. Just like the purpose God put us here on earth, we are putting into our business, starting with an advertisement here in a Christian-based publication. Thank You Markina McNight (NSM) for leading us to the Christian Blue Pages, and thank you, Brian Hegyi from Christian Blue as well
Please share a story where you saw God move in your business or impact a customer.
We asked God to live in our hearts early on in our marriage, so we knew our business had to have a foundation as such. We knew the moment that once we launched our business on social media that we were going to need the Holy Spirit to watch over us and watch over our business as it grows. We launched in January 2020, just as Covid-19 became a world pandemic. It was a frightening time to start a business and watch it grow. I remember going into my prayer room (bathroom) and talking to God for 30 minutes, crying at a business that had not failed. I went to bed with another prayer on my heart. I asked God to show us what needs to be done because one week went past, then the next week went past, and not one phone call, not one interest in social media. A few nights later we decided to go ahead and get the business its own phone number (937-750-8642). I took the number 8642 and said these letters stand for (TMGC) – Trust Me God Coming! So Wednesday came, and I had a ministry lead meeting at the church. Our pastor said there will be noticeable changes within the church, starting with the cleaning of the church, and he said we will be looking for another company to come to clean our church. I sat there incredibly quiet, and never uttered that we just launched our cleaning business called Fast and Neat Services LLC, and that we could do it. I got home, told Fred, and he said "What do we need to do?" I said, "Let us pray on it", which was my way of saying "I do not know." I then had a dream come to me saying, "Reach out to the Elder of the church and tell him", so I called and set up a walk-through. Two months went past and the pandemic was in full swing, when we finally got a call from the church, "Can your company do a deep clean of the church?" "YES!", I said. We took on the task, and then bid for the contract, and got it. A few days later, I prayed and said, "God, what now?" So, we posted again on social media, and this time our post was liked and shared, and people/businesses were being tagged, asking for our number. Now I believe it was God who interceded, just as I began to have thoughts of giving up on the business and going back to policing. The very next day, we got a phone call from a salon, set up our walk-through, and this time, we corrected the mistakes we made from the first walkthrough, and got the job! I then went into my prayer room (bathroom) and said, "Lord, I don't want to go back to Law Enforcement… I love the freedom that I have. Please direct me differently, not only with the business but with another source of income. I then walked into this law firm, and came out hired, knowing nothing but God!
Moving forward into the business, we got a call and set up a walkthrough for a business that was worth $1.5 million. This business wanted to cut corners on the cleaning, disinfecting, and sanitizing of the location. Now because I strongly felt about the old saying "cleanliness is next to godliness", we could not see our business cutting corners and not cleaning a high-profile business as such. So, we learned several valuable lessons that sustain us to this day in our business. We will only grow and hire people that have a passion for life and work.