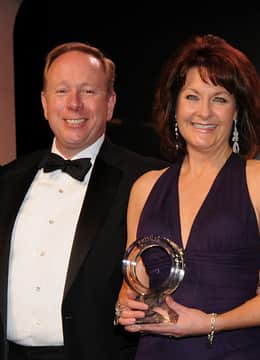 Business Name: Express Employment Professionals
Contact Name: Bud & Kristina Downing, Owners
Business Address:
2200 N. Limestone St. Suite 116
Springfield, OH 45503
Website: https://www.expresspros.com/springfieldoh/
Since our beginnings, Express has been guided by a simple vision: help as many people as possible find good jobs by helping as many clients as possible find good people.
What first inspired you to get into your line of work? And what motivates you to do the work you do still today?
The quality of the franchisees and of the Express organization as a whole. We know of no other $4B organization that starts its annual meeting with a prayer breakfast. On a local level, putting good people at good companies lifts the entire community. We view our work as our mission field.
How did you come to faith in Christ?
Unbeknownst to me (Bud), many people were praying for me. Reading Mere Christianity was a turning point God used to motivate me to seek a church. Hearing the word of Christ continues to be transformational.
How does your faith impact the way you do business?
Our faith drives our business decisions, from planning to execution. We chose this business because we get to help people every day.
What ministry/cause do you champion and why?
The Pregnancy Resource Clinic of Clark County, The Breast Cancer Awareness Foundation, Junior Achievement, Agape International Missions, Young Life, and The Mercy Health Foundation.
These organizations work directly to John 10:10 "The thief comes not, except that he might steal and kill and destroy. I came so that they might have life, and have it more abundantly."