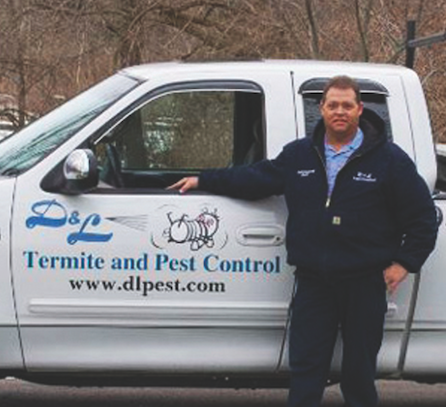 Contact Name: Thaddaeus G. Laywell Sr., Owner
Business Name: D&L Termite & Pest Control Inc.
Business Address: 1223 Lagonda Avenue
Springfield, Ohio 45503
Website: http://www.dlpest.com
Business Phone: 937-322-2500
Business Description:
General pest & termite control on residential, commercial & industrial  properties.
General insects-spiders, roaches, fleas, slab ants, etc.  About 40 different creeping crawling insects.
We also treat for bed bugs, and all types of bees, wasps, hornets, etc.
Termite & other wood destroying insects.
We offer Wood destroying insect reports for property transfer-VA, FHA, & conventional.
We no longer offer animal trapping or removal.
What first inspired you to get into your line of work? And what motivates you to do the work you do still today?
My father started business in 1975,  With six brothers, there was not enough work for all of us so at 19 I went to work in the lawn care field for about 12 years. In 2000, I noticed the company was not doing well for many reasons. At that time only my brother Calvin was working for our dad. I asked my brother, if dad would sell the company to us, would he be alright with me coming back & running company. Our journey started April 1st 2000. We are now in our 21st year owning company together and working side by side. I give our Lord Jesus Christ all the credit for working this out for us. Our father was hard to work for and really didn't think he would sell company to us, but timing was right-in God's time.
How did you come to faith in Christ?
My mother is a true saint of God, she always tried to make us go to church when i was young, but during my teenage years I didn't want anything to do with God. At age 30, after thinking I had the world where I wanted it-it all came crashing down-my marriage failed, lost my new home, car, etc. I left with what I could in the back of my 68 chevy truck after 9 years of marriage. My sons were 9 & 6 at the time. My mind was not good then and God started dealing with my soul & I got saved on July 6, 1998. I was still going thru my divorce at that time but God still helped me quit smoking on July 17, 1998, wasn't long after that I knew I found something in Christ I never wanted to give up & to this day, I praise him for my salvation. Two years later, I was in business for myself, got custody of my two boys, I know I could not have done this on my own. Had to wait on the Lord for 12 years, but he gave me a wife of 9 years now-so blessed.
How does your faith in Jesus impact the way you do business?
Just as the bible says-do unto others as you would have them do unto you. That is our motto. We let our faith speak for itself-trying to treat others as Christ would.
What ministry/cause do you champion and why?
I am currently on the board at my church, I believe our youth are the future of the church and world so I would say my cause is to help in the youth ministry where I can. I organize a car show yearly with our proceeds going to help youth go to church camp, etc. I don't see myself as a minister or teacher but willing to go where God leads me.