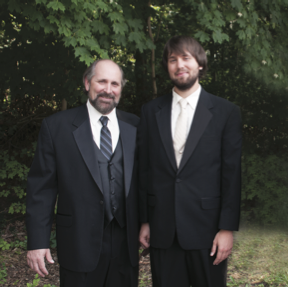 Business Description
Costanzo Insurance is a third-generation family-run insurance agency that handles all lines of personal and commercial insurance – Auto, Home, Life, Commercial, Health, and Medicare. They are a 26-year member of the Christian Blue Network.
What first inspired you to get into your line of work? And what motivates you to do the work you do still today?
My father started in the insurance business after he graduated from college in 1959, and I never really thought I would do anything else. As a child growing up, clients and agents would share evenings at our family's kitchen table discussing insurance and their life. I always enjoyed it as my Dad would help take care of their needs and problems, whether it was insurance or life circumstances.
How did you come to faith in Christ?
My father and I came to Christ through the reading of the Bible. We were searching for something more, and at age 50, my father made his decision to follow the Lord, and I followed at age 29, less than 6 months later. I started reading the Bible from the beginning, and 4 months later when I was reading Isaiah, the Lord gave me a vision of Hell. I saw Heaven in the distance, with bright lights shining all around it, but I was forever on the outside, never allowed to enter. It was more horrifying than just being dead, and my wife shook me out of this vision, and from that point on, I was changed forever. I never wanted to be separated from God again.
I recognized very early on that the Bible was a story of redemption through our savior, Jesus Christ and that these books were pointing and telling his story. All of this was before ever reading the New Testament. Three weeks before my vision of hell, I was jogging and listening to Scripture, when the Holy Spirit revealed to me that God was indeed real. When I stopped after receiving this feeling that overwhelmed me, I looked down, and on the ground was a playing card laying upside down. I had always worn the number 9 through all of the years that I played baseball, and I knew that that card would be the 9 of hearts, the moment I saw it laying there, upside down. Yes, it was the 9 of hearts!!
I am ever grateful for God's free gift of Grace through our Lord Jesus.
My friends recognized the difference in me, and they finally realized that I was Born Again!
How does your faith impact the way you do business?
When my Dad started our agency in 1988, he dedicated our agency to serve the Lord first, and we have continued that way ever since. Our family considers it a calling, and we are now continuing into a 3rd generation, as my son has also joined the agency with the same convictions that my Dad, wife, and I personally have. We are here to help our clients with their insurance needs and spiritual needs as well.