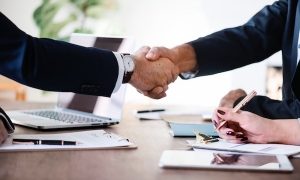 By Darrel Geis, Christian Character and Competence – Our Unique New "Trust" Filter
I often hear advertisements from businesses that claim "we are a business you can trust". Many say this, and, ideally, their claims are proven to be true. Everyone – Christian or not – prefers to work with businesses they can trust, but what "filter" can consumers use beforehand to help assure trustworthiness?
Reviews are all the rage these days. Most consumers lean on the "wisdom of the masses" that reviews provide, thoroughly analyzing them to form their decision on the competence of a particular business. But exclusively trusting the experiences of others willing to post reviews means you are actually putting your trust in someone (the reviewer) you generally don't know. Their analysis may be spot on, or it may not reveal the entire story.
We believe it should, so that's why the team at the Christian Blue Network has worked tirelessly together over the past year forging our digital future to introduce our new website – TrustBlueReview.com, "the trusted community where you make the call".
Trust is earned, and we believe that the most reliable "trust" filter for consumers is one that is not only a monitor of a company's business practices (i.e. reviews), but also an affirmation of that organization's values by which you can expect to be treated (i.e. a commitment to honor Christ through the business). TrustBlueReview.com is that exclusive filter.
At Trust Blue Review, we've blended the rich 25 year of the Christian Blue Pages directory network, with an on-line resource featuring reviews of Christian businesses from people like you – consumers looking for businesses they can trust. Trust has always been the #1 reason people engage with our brand over the years, and now we'll provide consumers an additional level of confidence in selecting our featured businesses.
From accountants to dentists, plumbers to veterinarians, and every type of business in between.
So when you have a product or service need, choose the only service that provides a filter of competence and character – choose Trust Blue Review, and get it "Out of the Blue".