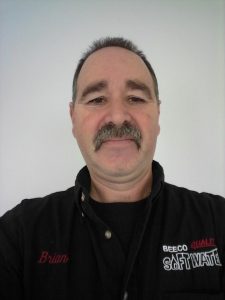 Contact Name: Brian Beeler
Title: Owner
Company Name: Beeco Softwater                            
Phone Number: 937-836-0413                                    
Web Address: beecosoftwater.com
Address:  275 Huls Dr., Clayton, OH 45315 
Business Description: We sell and rent water softeners/conditioners for well or city water. Our units are computer demand with a 63 day water usage tracker that allows the unit to adjust daily to your family needs.   If anyone comes out to your to talk to you about a water softener form Beeco Softwater, they will also be the one who does the installation. We will cover your floors when we come into your installation. We can usually install a new unit in your home within 2-3 days or sooner.
How is your business different from others in the same line of work? How does that difference benefit your customers? The difference is my father and I. We take the time to do the installation correctly. We answer your questions. There are no dumb questions. We treat your home with respect to covering your floors and always cleaning up before we leave. We are state licensed master plumbers and we have our work inspected by the county you live in.
How did you come to faith in Christ? I came to know Jesus Christ as my Savior at an early age through my family and Sunday School at West Milton Baptist Church
How does being a Christian affect how you conduct your business? I just try to treat my customers the way I would want if I were in their shoes. Charge a fair price, do good quality work, and make sure the customer is completely satisfied.
What ministry/cause is near and dear to your heart, and why? I do not have a specific ministry in the church, however, I enjoy being a public servant. I was a volunteer firefighter for 17 years, a softball coach at Milton-Union schools and summer teams for 13 years, and currently umpire softball and volleyball from all ages up to college.
Why do you advertise in the Christian Blue Network? It works.