1991 Our Story Begins Dayton OH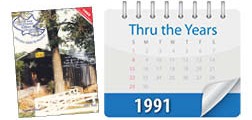 Our story begins in Dayton, Ohio. Three men - a captain in the Air Force, a Christian business owner, and a pastor - had a vision to start a Christian business direcory, and unite the body of Christ. KTW, Inc was established.
K - Bryan Kelchner
T - Larry Trimbach
W - Greg Weis
Our original Christian telephone directory, named Central & Southwest Ohio Christian Directory, was released. It covered the metropolitan areas of Cincinnati, Columbus, & Dayton, Ohio.