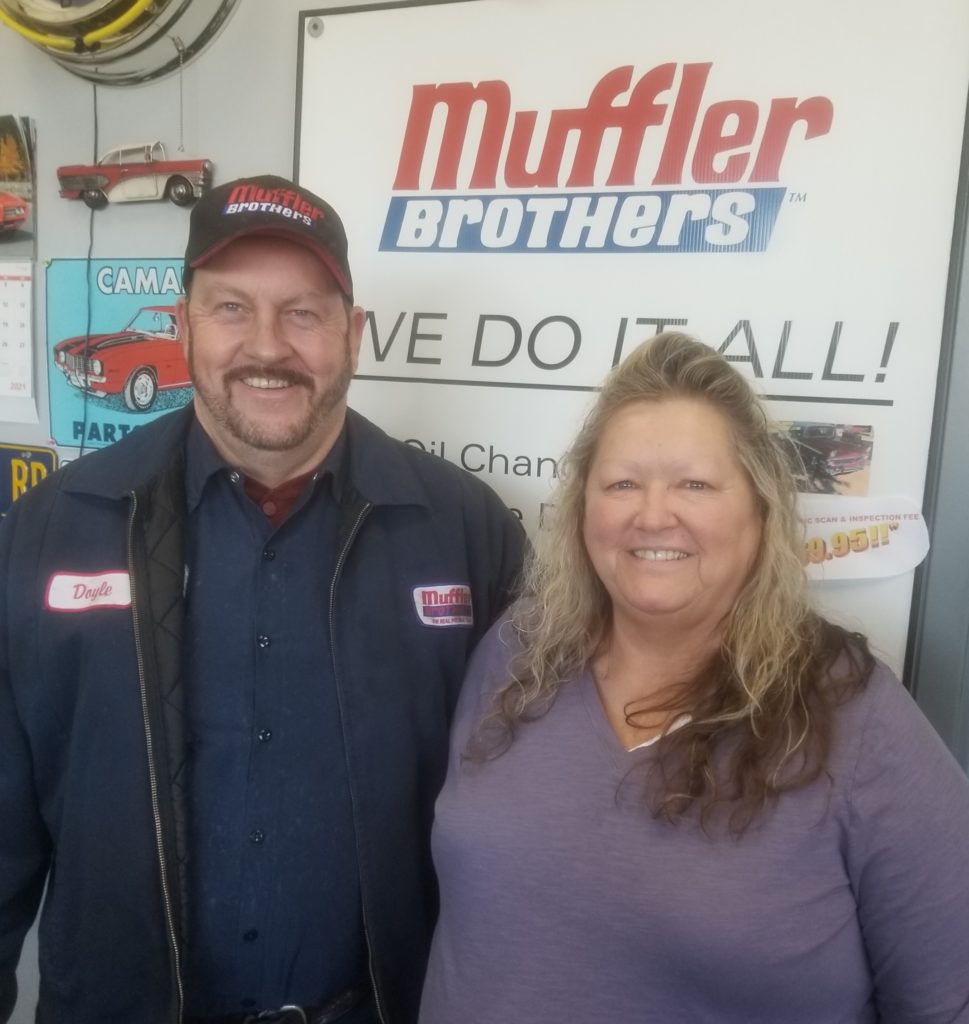 Contact Name: Doyle & Holly Grubb, Owners
Business Name: Muffler Brothers of Franklin
Business Address: 250 Conover Dr. Franklin, Ohio 45005
Website: http://mufflerbrothers.com
Business Phone: 937-746-4222
Business Description:
Muffler Brothers of Franklin is a complete auto repair and service facility. They specialize in exhaust work, brakes, alignments, oil changes, brake lines, and more. They treat their customers like family. Muffler Brothers – the real pros in town.
What first inspired you to get into your line of work? And what motivates you to do the work you do still today?
Doyle has been doing exhaust and muffler repair since he was about 16 years old. He has been with Muffler Brothers since 1987. He has been the owner for 5 years, loves and enjoys his work, and enjoys his customers both new and old, and the friendships he has made along his journey.
How did you come to faith in Christ?
Holly – the Lord saved me on the 1st of October 1994 in my living room at midnight. Since then, I have been on a journey for Jesus. He leads me and guides and me to where I must be. I minister to others as the Lord makes the way. Doyle came to Jesus 2 months after Holly in December of 1994, and God really did a work there.
How does your faith impact the way you do business?
We here at Muffler Brothers of Franklin treat all our customers the same, as Jesus would have us do, no matter what walk of life they have. We treat them all the same. I, Holly, have found that working in the front is a great blessing to help others and pray for them along their journey. I am most grateful for the ministry that God has placed upon me, and my faith is stronger because of it.
What ministry/cause do you champion and why?
Holly – the Lord called me within 6 months of saving me, and anointed me to the ministry of preaching the word and song. I have been involved in nursing home ministry and have ministered in a church that the Lord led me to start in early 1995. I am now on a journey that where the Lord leads me, I will follow and do his work. I am a firm believer that we must be about the father's business until he returns for his children.